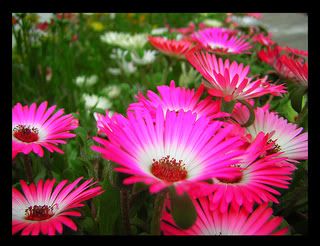 Forget love give me Spring!! Howdy my followers/fellow bloggers! It has been quite a while!! I'd love to say I've been so busy because I've won the lottery, but I haven't, so I'll have to stick to the truth of the fact that I'm horrible at consistency and keeping up with my blog!
Where to begin, where to begin! Well I guess I should start with the most pressing/obvious. I have been in the WORST mood of my life. Seriously, for the past week or so, I've feared for my hubby's life. Okay, I won't go that far BUT I have been pretty satan-like, and it is not very becoming for a lady such as myself. I have been so negative that it is unbelievable. I almost felt like I did about a year ago. I quickly snapped myself out of it though. I also came in today to see that one of my favorite bloggers,
Tami G,
was apparently in the same funk as me, until she determined to push away the yucky! So that is what I'm determined to do as well!
We are closing on our house in about two weeks. I'm very anxious/nervous about that. I think that may have something to do with my frustrations/stress right now. We have been hoarding money like crazy to keep a back up of funds if it is needed. I think we will be fine, but at this point I am just ready for this closing to be done & over and have us in our new house, unpacked and settled in. Also, I'm a big garden person. I love growing my own plants and flowers. It is killing me to not be able to get my hands on my new gardens and start working away to beautify them. I need to learn to be patient and take deep breaths and wait it out I guess.
Also, I met someone yesterday that had been offered a severance pay in order to keep the sexual harassment she suffered hush hush. At first I was shocked that a law firm would do such a thing. Then I started thinking, hmmm maybe I need to give details, line by line, to my old employers and have them give me hush money. I'm sure I would get way more than this girl did considering the law firm actually knew what was being done to me, along with at least three others. (grrrossssss).
But I digress, as usual! I'm super excited because they Yankees are coming to play the Rangers not on one but TWO occasions!!! & of course, I will be at both this summer!! I LOOOVE it!! Also, this weekend I'm getting in some rock climbing ANNND spending the rest of the day at a lake with some friends. Hopefully we will manage to pack in some sailing and jet skiing, but we will see. Hopefully I'll have some pics to post!
Hope everyone has been doing well and not losing too much faith in my blogging!!