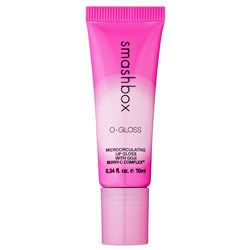 It should be a sin that I did not report on this awesome gloss when I originally bought it a few months back, but what can I say? I'm a busy girl! lol. Anyways, my major purchase recommendation for this week will be Smashbox's O-Gloss, simply because it is awesome! There have been few and far in between a gloss that promises "shade change" to reflect your completion. Me being me, of course, checked most of those out and was highly disappointed. For some reason, this product came out and I felt the need to try it out. Surprisingly enough, I dared to take the challenge at about $20 a tube. But boy, o boy, can I say, was it worth every penny! Now, it isn't an every day gloss (see Victoria Secret's Very Sexy fruity lip glosses at about $7 a pop and they last what seems like forever). No this is something you would use if you are going to take pictures, or date night to start off the night right, or for if you haven't seen someone in a while and want to look extra great!
You only need to add a small amount to your lips, don't go overboard! Also, give it a couple seconds to take the full shade. You will be surprised at how well it fits your color. Don't believe it changes according to skin type and tone? Grab a couple friends and have everyone put it on, I did, and it was a different shade on each of us! Crazy!
Don't want to splurge that much on one tube? Go to sephora now, they have a great deal going on where you get a bunch of great lip products for like $38!!! I'm still considering making that purchase, it's too much of a steal to pass up!